She would still be a beautiful doggy, as she most certainly was in the beginning of her life, had those who threw her into the street without any remorse taken the time and effort to care for her and bring her to the vet.
Yet, to them, she was merely a toy without a soul, a toy they didn't fancy anymore. And, as a rule, this sort of people reach for a new toy every time, discarding the old one, just as they have done with this little creature who had the mischance of becoming sick.
She stood in the middle of the road, imploring each passer-by to take pity on her. She knew her strength was running out and she would be unable to continue fighting for her life all by herself.
This is how we've come to hear of this little girl's ordeal, and we were moved to tears by it. Although we've reached 130 little animals in our care, many of them still on their way to recovery in veterinary clinics, we couldn't remain indifferent to her plea.
She is now being cared for in a clinic, in serious condition, probably worsened by the stress of having lived on the streets. As soon as she is discharged, APAM shall be her forever home.
As always, we call upon you, animal lovers and our friends, to please continue to support us, so that we may carry on with this charitable work that can be so challenging at times.
Please remember to spread the word about our efforts, and share our postings with your list of friends. It is a great help. Thank you all.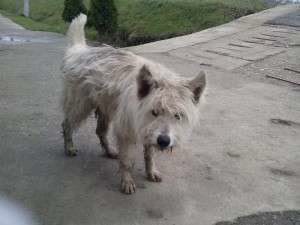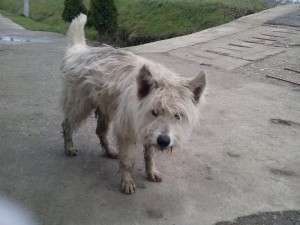 ANDRA at APAM`s Sanctuary