[vc_row][vc_column][vc_column_text]One morning…
Big fuss in the APAM Sanctuary early in the morning. This is our home, this is the home of more than 100 souls saved from death and also this is our work: the flower greenhouses. To feel safe, we have surveillance cameras…cameras that caught a person, leaving an injured at our gate, a dog that was barely crawling on his legs! Saddened and revolted by the situation we rushed to the gate, where this innocent soul was crying in pain, jumping to bite us. Eventually we managed to put him in the car and run to the clinic with him, where he can be given urgent medical help, what he needed. Good people!! APAM Sanctuary is NOT A VETERINARY CLINIC, we to go to Arad at veterinary doctor when we have a problem with a dog or a cat! Good people, abandoning a soul in suffering at our gate is not a solution, it's just the prolonging of the suffering. To have a back and legs broken, to have a cracked skull and to be lifted in a car, lowered, stress in front of a gate, lifted again into another car…it's not humane, it's painful! We know who left the dog. Facebook social network worked wonderful after we posted the photo of the person in front of our gate. We have nothing more to say about his choice!
Now the poor dog is hospitalized and we hope to see him back on his legs. Investigations started and we don't know yet how many problems he has or how many operations he needs. Costs will not be small, but if everyone helps a little bit, we hope to succeed in helping Denis. Let's succeed in transforming him too into a lucky and happy dog. Let's show him that he is loved! We thank you from our hearts!
One morning…
One morning…
[/vc_column_text][cq_vc_cqcarousel displaystyle="carousel" images="3812,3813,3814″ slidestoshow="5″ thumbstoshow="7″ thumbwidth1="320″ thumbheight1="200″ thumbwidth2="120″ thumbheight2="80″ onclick="lightbox" customlinktarget="_self" dots="yes" arrows="yes" largeimagearrows="yes" autoplay="no" autoplayspeed="4000″][/vc_column][/vc_row]
Denis is still in the clinic and fighting for his life, sadly we did not manage to raise the money needed to pay the bills, his and a little kitty's who is also in the clinic.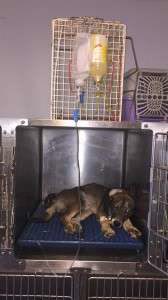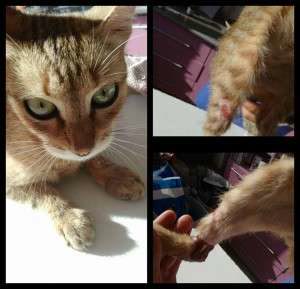 One morning…
UPDATE:
Denis is still in the clinic but we do not have good news, his condition is good, he is eating by himself but the back fracture was severe and there are no chances for him to walk again, he will probably remain paralyzed. In the APAM sanctuary there are other paralyzed dogs, so Denis will have friends to play with, and in the future we hope to build him a cart so he can move easier. We thank you for your support!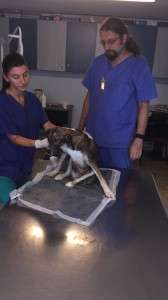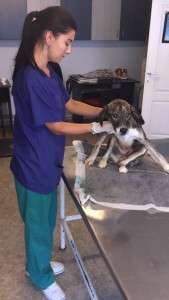 Denis, now a happy dog at APAM's Sanctuary