Born in a public toilet! </strong>
It's incredible how far abandonment and indifference can go in this country! When this desperate mother realised her time to give birth was approaching, she found a terrible place. It was a hole that was leading straight into the public toilet and thus all the waste coming from it was falling on her. Although our sanctuary is full and we can't seem to be able to place in adoptions, with effort, we managed to make room in the quarantine so that we can take her too, the poor desperate mother. She is so happy and tranquil now! Any help for them and the sanctuary is welcome! We thank you from our hearts!
Born in a public toilet!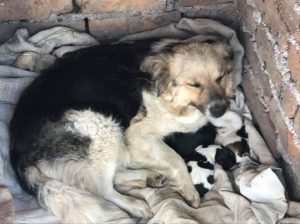 at Apam Animals Sanctuary