another hurt soul
If we finished the year with much pain in our souls, it seems that we're starting it the same way. It's probably the way our daily life is, that we always suffer from not being able to do more for improving the lives of these animals or finding them places where they could be safe from the dangers of the street.
This dog was hit head on by a car; naturally, no one saw the license number, and worse, no one from the car cared to stop and see if they could do anything for this unfortunate soul. So that 3 days passed until we found out about him, during which time his situation worsened. He is now at the clinic, in critical state (he cannot walk), but we are hoping to save him, especially since his kind eyes begs for pity and mercy for his life.
another hurt soul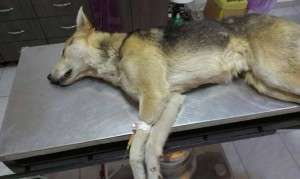 another hurt soul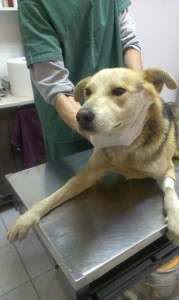 2015-01-21
Charlie has been released from the clinic
Charlie has been released from the clinic, and is here with us at the APAM Sanctuary. Unfortunately, the verdict in his case is cruel: he will never walk again. We are continuing with his treatment, and hoping for a miracle. He has already made friends here, one of them is Lucky, the other Remus, both paralysed, as well. In spite of being handicapped, all three of them are playing, appreciate life, and every bone and bit of food they get… We love them dearly!
In the future, Charlie will need wheels to help him walk. We will keep you updated. Thank you all for your support!