"It is not my fault I blinded! I tried to show that I can manage very well even if I don't see anymore….but for nothing, I still ended up in the street! What did I do wrong? Now in my old age I need a family to love me as I am, and in return I ended up nobody's, blind and abandoned! Anybody must not believe that if I'm a breed dog it mattered, I was probably good in my youth…but now I'm not good anymore…I'm just an old dog thrown into the street to handle as he can! The cold outside is was not a problem for me, but I was so hungry and thirsty….
Even if I'm so sad and disappointed by the human race, my soul is still full of love and hope!
With love,
Jack"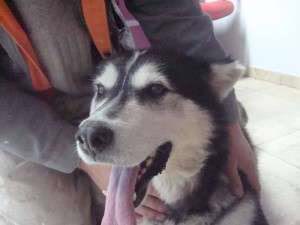 Jack, the blind Malamut, ADOPTED
Jack adopted in Austria by a wonderful family who waited for him impatiently. A sucessful adoption and thank you from our souls Ingrid, Daniel ,Sandra, Bella. Markus.Together we succeeded a happy end for a blind and old soul! THANK YOU Christina & Christian!