How can earth still stand these murderers?!
The road from APAM till the city and back, almost always is like a movie from the horror ones!
We left to Arad to save some abandoned dogs…till Arad, on the left and right side, seemed like today more than ever, full of dogs hit on the road, a nightmare image….after years of seeing this and I don't think anyone can get used to something like this!!! And, most of them are hit on the side of the road! It never crossed our minds to make photos to show to the ones who are lucky to live in this life in a civilized country…it is better you don't know!
We reached to Arad, we succeeded to fill the car with dogs, all good and alright, let's go back to APAM…we didn't even leave the city well, an abandoned puppy appears on the side of the national road, intensely circulated by big trucks and cars. We parked the car fast where we could find a place not to get hit by a big truck…and we begun with running tears, hard decisions, stomach aches, it is not easy to think how to do not to throw the puppy in front of the cars?! How can you do so the little one will not get scared and we'll succeed getting him safely. BUT all was like a miracle, on the road fewer cars started to circulate, the puppy crossed the road on our side and slowly he came on the edge, toward us, right into our arms. It was only remaining for him to say THANK YOU. Fast we put him in the car and we left. Till APAM he was like an angel, looking at the window and having a calm look and such gentle eyes.
It is pointless to ask WHO could throw a soul on the road?! What black soul can he have?! How can you see the look he has and to abandon him plain and simple??! HOW?!
How can earth still stand these murderers?!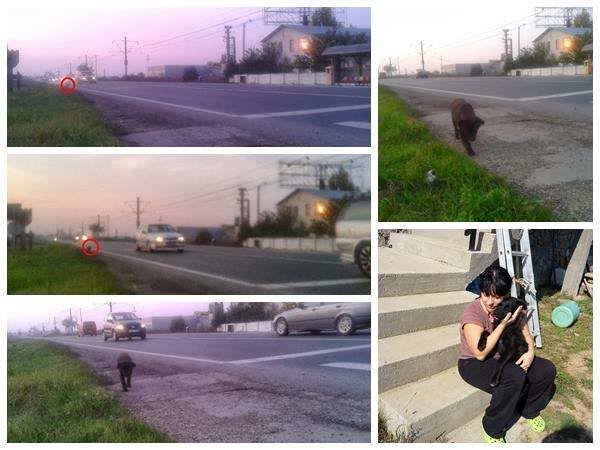 How can earth still stand these murderers?!